In early 2015, I organised a bushwalking trip to Frenchmans Cap, which is the most prominent peak in the Franklin-Gordon Wild Rivers national park in Tasmania. The white quartzite of its summit dome, which looks a bit like a French beret from a distance gave the peak its name and is visible from far away.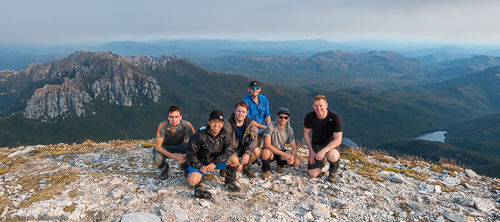 Trip Overview
Name: Frenchmans Cap
Height: 1446 m
Prominence: 966 m
Location: Franklin-Gordon Wild Rivers national park, Tasmania, Australia
Date: January 2015
Conditions: Summer
Total distance walked: 51 km (65 km including Irenabyss extension)
Elevation change: 3400 m up and down (5100 m up and down, when including Irenabyss extension)
Number of days: 4
Historically, the walk was infamous for being extremely muddy (read waist-deep mud) on the Loddon Plains on the approach to the mountain, where the track runs close to the Loddon River, the so-called sodden Loddon. However, we did not have much of a problem. The trip was relatively straight-forward, as it is a return walk that starts and ends at the Lyell highway. However, it must be stressed that the trail is in an alpine area with severe and sudden weather changes and that the walk involves a significant ascent.
The major problem, however, was the fact that multiple large bushfires were burning all over Western Tasmania and on the central plateau right at the time that we wanted to start the walk. In fact, it was unclear if we could go until about a week before the walk because there was a small fire burning nearby. We could smell and see the smoke from the fires during most of the walk.
After hiking up to the summit in surprisingly good weather, we spent another day at Lake Tahune hut. A small party continued on a day walk all along the ridge to Irenabyss, which is a deep chasm cut into the rock by the Franklin River. The rest stayed near the hut. We were lucky and met a rafting group who were relaxing there. They were kind enough to let us borrow one of their rafts so that we could explore Irenabyss from the water. The walk back from river-level up to Lake Tahune hut was a serious undertaking, and we arrived there wholly exhausted.
The trip to the summit and back was 51 km in total with 3.4 km elevation change both up and down. Including the extension to Irenabyss, we covered 65 km and about 5.1 km up and down in four days.
Here are the photos from the trip. Enjoy!
Fabian