In 2014, I spent a few weeks in Alberta, Canada, specifically in and around Banff national park. We scrambled and hiked up various peaks near Banff town, such as Tunnel Mountain, Mt. Rundle and a few others in the close vicinity. Later I visited Mt. Assiniboine on a longer trip.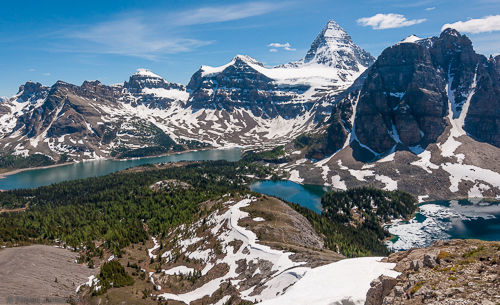 First of all, Canada is awesome! If you like the outdoors, you will definitely enjoy it. From my experience, the people are very friendly as well.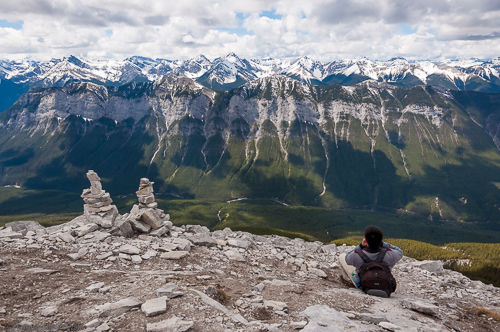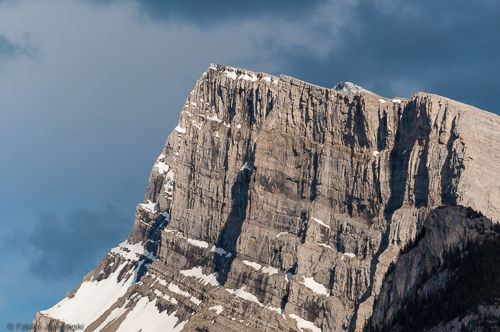 Hiking Trip to Mount Assiniboine
After that, I went on a solo trip to Mt. Assiniboine (3618 m), which is one of the most prominent peaks in this area and one of the best hikes there. Because of its characteristic pyramid shape and its close resemblance to its European counterpart, it is often referred to as the Matterhorn of Canada or the Matterhorn of the Rocky Mountains.
Trip Overview
Name: Mount Assiniboine
Height: 3618 m
Prominence: 2086 m
Location: Mount Assiniboine Provincial Park, British Columbia, Canada
Date: End of June 2014
Conditions: Summer (still a lot of snow on the ground though)
Total distance walked: 99 km
Elevation change: 3560 m up, 3550 m down
Number of days: 5
Peaks climbed: 2
The main problem is that the peak is located in a relatively remote area. Access is possible via a two-hour drive from Banff town, of which the last half or so is on a gravel road. From the trailhead, it is a 27 km walk into the valley around Mt. Assiniboine, which I did in two half days because of daylight constraints. It is highly recommended to walk during daylight hours to reduce the chances of encountering a bear. Besides, bear spray (a potent pepper spray) should be carried at all times. On the way into the valley, I needed to cross a river via a shaky log bridge, make it all the way up Assiniboine pass to finally drop down into the valley on the other side, where I set up camp for a few days.
Once in the valley, the primary reference points were the snow-covered and majestic peak of Mt. Assiniboine and Lake Magog in front of it. The main campsites are right beside Lake Magog and offered a great view of the peak. As the area is prime bear country, food and all other things that have an odour, such as toothpaste and cremes, had to be secured either in aluminium bear boxes, or needed to be lifted up using bear pulls, where they are out of reach. The bear boxes were installed near the cooking area, only about 50 m away from the campsites. On the first night, I did not use earplugs. That was a huge mistake, as I could hear the noise of bears banging against the aluminium lockers during the night. Needless to say that I did not sleep much that night.
In the following days, I explored the valley and hiked up some of the peaks close-by. One of the most beautiful ones was the steep walk up to the Nub, from which I had an excellent overview of the valley and the mountain. Climbing Mt. Assiniboine itself is a fairly serious and technical mountaineering challenge, that requires technical climbing equipment and at least one climbing partner. Even an attempt was completely out of question for me at that point.
I left the valley via Wonder Pass, which is located on the opposite side from where I entered. It was still covered in deep snow, which made my way back to the car park pretty hard. When I finally reached the car, I was completely exhausted.
Here are some of the photos that I took on this trip. Enjoy!