I walked the Overland Track, which is a pretty famous long distance hiking trail in Tasmania, Australia. This is a summary of the 8 days, in which I walked 131 km and covered nearly 160 km in total.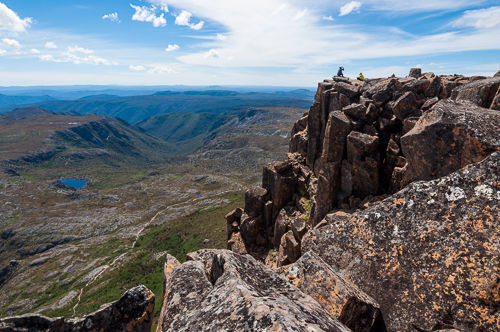 Trip Overview
Name: Overland Track
Location: Cradle Mountain - Lake St Clair national park, Tasmania, Australia
Date: End of December 2013
Conditions: Summer
Total distance walked: 131 km
Number of days: 8
Peaks climbed: 4
Day 1 - Ronny Creek, Marion's Lookout, Cradle Mountain summit to Waterfall Valley Hut
My journey did not start out too well. It was raining quite heavily during the night. The tent took a long time to dry in the morning. I was already late when I left the campsite. However, the weather was gorgeous this morning. And the queue of mainly day trippers and only a small fraction of Overland Track walkers was long at the Cradle Mountain visitor's centre. The park management runs shuttle buses from the visitor's centre to the actual starting points of a couple of shorter trails and the start of the Overland Track.
After about 45 minutes in the queue and another 20 min on the shuttle bus, I arrived at Ronny Creek. That is where the Overland Track starts. I entered my data and the start and expected end date into the Overland Track log book. This is how the park rangers keep track of all the long-distance walkers, in case something goes wrong on the way. At this time, I had not decided yet if I should walk for six days only or do the extension and stay a bit longer. In any case, I had packed food for eight days plus a bit extra for security reasons.
The Track started on a boardwalk that led me through buttongrass into a light forest. The first major sight was at Crater Lake. There was a small boat hut from which you could have a good overview of the small lake. The trail led further up to a plateau from which I could see both Dove Lake on one side and Crater Lake on the opposite side. The area was full of day-trippers who came up from Dove Lake car park below. A rather steep section leads up to Marion's Lookout. The steepest parts are secured with metal instalments and chains. This section was a bit annoying with the heavy pack on my back. You could have a great overview over Dove Lake from about halfway up and of course from the Lookout itself. Most day-trippers did not go further than this.
The Track led up and onto a plateau. The view for the next days would be dominated by Cradle Mountain (on the left) and the characteristic shape of Barn Bluff (on the right).
Day 2 - Waterfall Valley Hut, Barn Bluff summit to Windermere Hut
Day 3 - Windermere Hut to New Pelion Hut
Day 4 - New Pelion Hut, Pelion Gap, Kia Ora Hut, Mount Ossa summit to Kia Ora Hut
Day 5 - Kia Ora Hut, Ducane Hut, D'Alton Falls, Harnet Falls to Bert Nichols Hut
Day 6 - The end? No! Bert Nichols Hut to Pine Valley Hut
Day 7 - Pine Valley Hut, Acropolis summit to Narcissus Hut
Day 8 - Narcissus Hut to Lake Saint Clair visitor centre
Summary