This is a report of our climbing trip to the Frankenjura, which is one of Germany's most well-known rock climbing areas. We stayed in the small town of Schlaifhausen.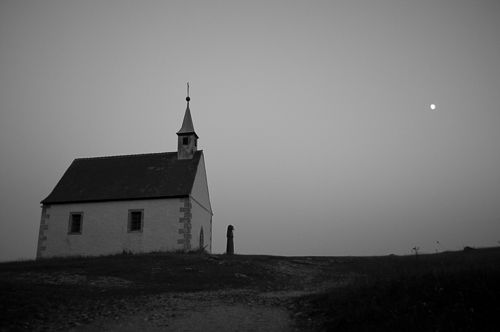 At the end of June, we went on a climbing trip to the Frankenjura. It is located in Bavaria and bordered by the cities of Nürnberg/Erlangen, Bamberg and Bayreuth to give a rough idea. The weather was perfect during our stay. It was scorching hot, around 33 degrees Celsius during the day. That was nearly a bit too hot when you are climbing the whole day. Luckily the rocks were in the shade during most of the day.
We stayed in the small town of Schlaifhausen and went climbing at the Rodenstein, which was only about half an hour walk away from the guesthouse. Most routes were in the VI (UIAA) degree. The topos are shown here, for the left, middle and right part of the rock. I was swamped climbing and belaying other people so that I did not have time to take pictures during the climbing sessions. That is pretty unfortunate. Nonetheless, here are some photos from the hike to the climbing area on the previous day. The light and the cloud formations were fascinating that evening, probably because of the heat wave and the storm that was slowly rolling in as we should see later.
After the climbing session, we came down quite exhausted, but happy in the evening. We were glad that we could cool off a bit in a small river close-by. Later in the night, there was a massive thunderstorm with a lot of rain and heavy lightning. On the next day, it was still drizzling in the morning, and we decided to stay at the guesthouse. That turned out to be a good decision, as it started to rain heavily again only a couple of minutes later. As an alternative, we did a few technique exercises below the roof of a nearby barn, had lunch and then left in the afternoon.