I have been climbing, hiking and doing via ferrata a lot in the Elbsandstein mountains recently. I give a short overview of Saxon style climbing and a summary of the main via ferrata in the region.
The Elbsandstein mountains are magnificent! I have been there three times in the last three months, always for extended periods of at least three days up to a week. There is a lot to see. Even though I have been there regularly in the last couple of years, I am surprised that I can always find new and exciting places that I have not visited before.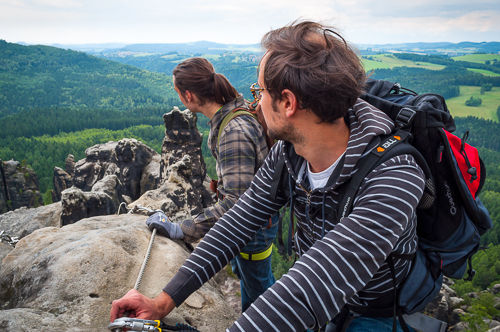 The Elbsandstein mountains are an accumulation of sandstone mountains near the city of Dresden, located in the very east of Germany. A part of them lies on the German side and is called Sächsische Schweiz, while the second part is called Böhmische Schweiz and stretches along the Northern border of Czech Republic. On the German side, they reach a height of a bit more than 550 m above sea level.
more ...