I walked the Overland Track, which is a long distance trail in Tasmania. This is a short summary.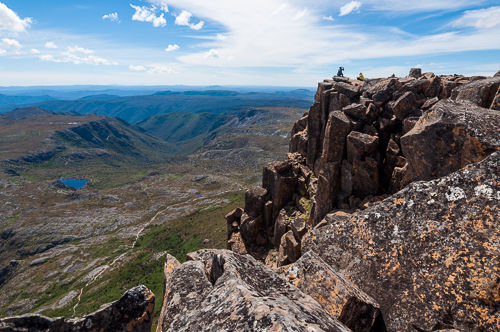 Day 1 - Ronny Creek, Marion's Lookout, Cradle Mountain summit to Waterfall Valley Hut
My journey did not start out too well. It was raining quite heavily during the night. The tent took a long time to dry in the morning. I was already late when I left the camp site. However, the weather was really beautiful this morning. And the queue of mainly day trippers and only a small fraction of Overland Track walkers really long at the Cradle Mountain visitor centre. The park management runs shuttle busses from the visitors centre to the true starting points of a couple of shorter trails and to the start of the Overland Track.
After about 45 minutes in the queue and another 20 minutes on the shuttle bus I arrived at Ronny Creek. That is where the Overland Track starts. I entered my data and the start and expected end date into the Overland Track log book. This is how the park rangers keep track of all the long distance walkers, in case something goes wrong on the way. At this time I had not decided yet if I should walk for six days only or do the extension and stay a bit longer. In any case I had packed food for eight days plus a bit extra for security reasons.
The Track started on boardwalk that lead me through buttongrass into some kind of light forest. The first major sight was at Crater Lake. There was a small boat hut from which you could have a good overview of the small lake. The trail lead further up to a plateau from which I could see both Dove Lake on one side and Crater Lake on the opposite side. The area was full of day trippers who came up from Dove Lake car park below. A rather steep section leads up to Marion's Lookout. The steepest parts are secured with metal installments and chains. This part was a bit annoying with the heavy pack on my back. You could have a magnificient overview over Dove Lake from about halfway up and of course from the Lookout itself. Most day trippers did not go further than this.
The Track lead up and onto a plateau. The view for the next days would be dominated by Cradle Mountain (on the left) and the characteristic shape of Barn Bluff (on the right).
Day 2 - Waterfall Valley Hut, Barn Bluff summit to Windermere Hut
Day 3 - Windermere Hut to New Pelion Hut
Day 4 - New Pelion Hut, Pelion Gap, Kia Ora Hut, Mount Ossa summit to Kia Ora Hut
Day 5 - Kia Ora Hut, Ducane Hut, D'Alton Falls, Harnet Falls to Bert Nichols Hut
Day 6 - The end? No! Bert Nichols Hut to Pine Valley Hut
Day 7 - Pine Valley Hut, Acropolis summit to Narcissus Hut
Day 8 - Narcissus Hut to Lake Saint Clair visitor centre
Summary